It is not difficult to buy pumpkins these days at supermarkets in the US as Halloween is approaching. The holiday is one of the largest events of the year for Americans. It is held on the night of October 31st every year. People celebrate Halloween to remember the deaths and mysteries. However, as the holiday is at the end of fall season; many believe that it was a harvest festival in the past.  Pictures below are taken by Vietlinh at Whole Foods in Los Angeles, California, USA.
Whole Foods supermarket chain is well known for its high prices, but foods sold in the markets are mostly local or organic products.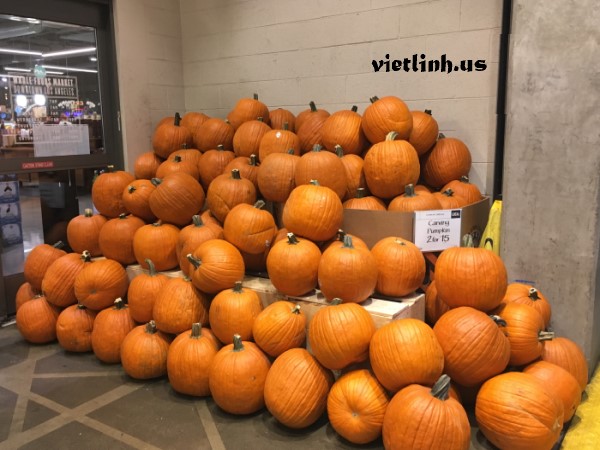 Like other years, large pumpkins with orange color are most popular items for Halloween. Americans, especially children, like to carve and decorate pumpkins as jack-o'-lantern. After cutting the top of the pumpkin or turnip, the fruit's flesh is taken out. Then a side of the pumpkin becomes a face, which is carved and decorated into. A candle will be placed inside of the pumpkin so that it can light up the decorated face in the dark. Jack-o'-lanterns are often put in front of the doors. Traditionally, in addition to decoration, people believe that the fruit lanterns can protect house owners from bad spirits and scary ghosts.   
Ugly, strange-looking pumpkins of different sizes are also preferred by many consumers because they reflect the spooky atmosphere of Halloween. For example, there are heirloom pumpkin squash and white pumpkin. Although these fruits are mostly used for decorations, some of them can be cooked into delicious foods.
Other varieties of pumpkins such as fairy tale pumpkin or warty goblin pumpkin, are sold at the market. They help consumers have diverse choices for their house decoration.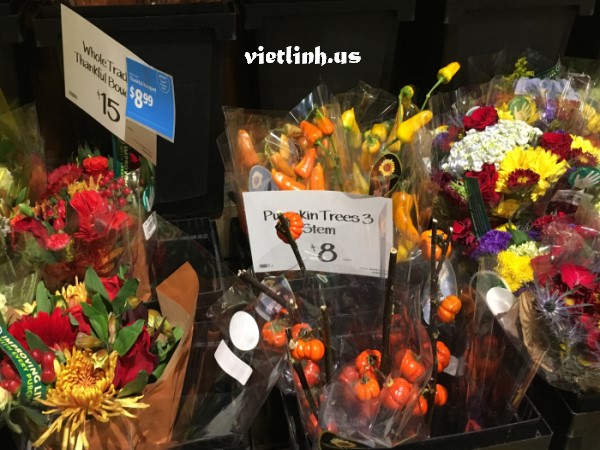 Additionally, there are also pumpkin trees sold as flower stems.
Flint corn, also known as ornamental corn, is a common item for Halloween and Thanksgiving decoration. Unlike traditional corn with yellow kernels, kernels of flint corn have different colors such as brown, black, yellow, or light yellow.
Despite the spooky spirit of the holiday, decorating their houses and gardens at Halloween has become a tradition for many American families. A variety of produce such as pumpkin species and ornamental crops are offered for consumers to help them celebrate this special event of the year.
Lynn LV. Viet Linh © August 2019. California, USA.