Livestock:
Since nearly a month ago, the price of goat and lamb meat in Ninh Thuan and Binh Thuan Provinces has continuously increased.
In the two provinces of Ninh Thuan and Binh Thuan, there are currently a total of over 168,000 goats and nearly 140,000 sheep. In these two provinces, the raising of goats and sheep is mainly in the form of free grazing combined with captive breeding and natural feed. Thus, the quality of local goat and lamb meat is delicious and safe.
Ninh Thuan Province's goat products were granted the certificate of trademark protection "Ninh Thuan Goat". The province's lamb products were granted the geographical indication for foods originating from "Ninh Thuan Province" to confirm the quality and prestige of the local specialty.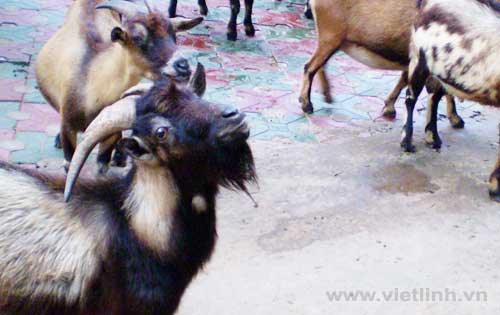 Plantation:
In recent years, Hanoi City has formed many highly efficient models of organic vegetable production and consumption. These models serve as an important premise for the city's agricultural sector to expand its acreage in the coming time.
Up to now, the city has 29 production chains with 41 supermarkets, shops and agents selling organic vegetables.
In the period 2020-2025, Hanoi City considers promoting the expansion of organic vegetable production as one of the important goals, thereby contributing to balancing the ecosystem, protecting the environment, and increasing farmers' income. This will be an opportunity for organic vegetable production in the city to increase both in quality and production scale.
Fruits:
According to authority, the area of ​​citrus trees in northern provinces of Vietnam in the past 10 years has increased exponentially.
Statistics show that the total area of ​​citrus trees in northern mountainous provinces is now at about 121,000 hectares, accounting for 47.5% of the country's citrus area. Only in the past 10 years, from 2009 to 2019, the average growth rate of citrus trees increased to 10%/year in terms of area, equivalent to 7,300 hectares/year, and more than 12% in yield, equivalent to 69,400 tons.
The farming of citrus trees develops quickly compared to the original planning. Meanwhile, citrus fruits are mainly consumed fresh, without the need of processing products.
Farmers, Agriculture, Countryside:
After the recent typhoons and floods in the central provinces, up to 80,000 pigs, 15,000 cattle, 3.3 million poultry and tens of thousands of hectares of crops were damaged by flood.
To restore agricultural production after the flood, the central provinces need a support of 5,600 tons of rice seedling, 225 tons of maize seedling, and 44.2 tons of vegetable seeds. Along with that are 560,000 doses of vaccine, 140,000 liters and 105 tons of disinfectant chemicals.
The agricultural sector will focus on cultivation and husbandry to help people restore production and create livelihoods.
Living and Environment:
The program "Clean Environment - Green Life" was launched by Syngenta Vietnam Co., Ltd. in 2015.
After 6 years of development, the program has been held in 7 provinces and cities across Vietnam, with about 7,000 farmers participating. The program collects nearly 40 tons of bottles, packaging of plant protection drugs and contributes to build a green - clean - beautiful rural environment.
Participating in the program, farmers will collect used pesticide bottles and packages thrown in the fields, gardens, or public places. Farmers will bring them to the collection points and exchange them with practical gifts.
Pet, Flowers and Ornamental Plants:
In the traditional flower crop to prepare for the Lunar New Year holiday last year, florists in Tien Giang Province had a successful season with a profit of more than 30%. Thus, local florists are excited to start a new crop.
Currently, the weather is favorable, so the sowing is not difficult. Common flowers grown this year include Chrysanthemums and Gerberas. It is expected that in the traditional Lunar New Year 2021 flower crop, local florists plant about 1 million flower baskets.
By Sonia LV - Copyright © VietLinh