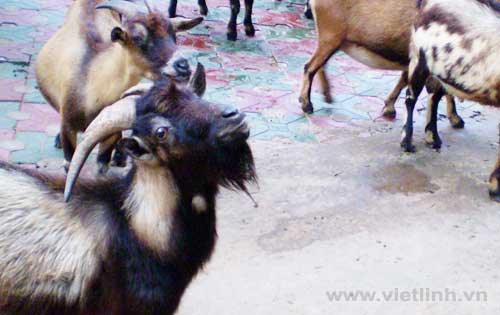 Livestock:
After 5 years of operation, Mang Den Dairy Goat Farm in Mang Canh Commune, Kon Plong District, Kon Tum Province becomes well known to the market.
Imported goat breeds at Mang Den farm have quickly adapted to the new environment. The farm also invests in breeding and creation of new generations of dairy goats. This opens up great expectations for the development of this largest dairy goat farm in Vietnam.
Each goat produces more than 3 liters of milk/day, with some produces up to 6-7 liters/day. With 8,000 goats, Mang Den farm has high-quality and valuable dairy goats for breeding.
Plantation:
Lam Dong Province cultivates over 600 hectares of sweet potato, mainly Japanese sweet potato. It is locally grown in the districts of Duc Trong, Don Duong and Dam Rong. Consumption of this product is mainly for export under the forms of fresh and processed (steamed and dried) tuber.
Most of the sweet potato exporters have Halal certificates to export their products to Muslim countries. Currently, major Muslim markets in Southeast Asia of Lam Dong sweet potato include Malaysia and Indonesia.
Fruits:
Yen Chau District, Son La Province has more than 2,700 hectares of mango. Of which, more than 170 hectares have area codes to prepare for export, and nearly 130 hectares are granted VietGAP certificates. In recent years, local mango cooperatives have focuses on quality standards to improve the brand of Yen Chau mango in domestic markets and export markets.
This year, nearly 900 hectares of mango in Yen Chau District will be harvested, estimated at nearly 13,000 tons of fruit. Of which, more than 3,200 tons will meet the export standards. With uniform quality, large, thick, and sweet-smelling fruit, Yen Chau green mango is highly evaluated and purchased in large quantity for export to China.
Farmers, Agriculture, Countryside:
Five years ago, Vinh Thoi Clean Agricultural Cooperative in Lai Vung District, Dong Thap Province could not think of a day when it will collaborate with Vingroup, a large cooperation in Vietnam. Yet, the cooperative is now a fruit supplier of the Vinmart supermarket chain, a part of Vingroup. Currently, Vinh Thoi Cooperative provides about 800-900 tons of fruits of all kinds for the Vinmart supermarket system each year.
In addition to tangerines and oranges, Vinh Thoi Cooperative also provides to the market many key fruit products of Lai Vung District such as tangerine, orange, rose apple and start apple.
Living and Environment:
Soc Trang Province is assessed to have a diverse and rich ecosystem. Many areas such as Cu Lao Dung mangrove forest, Mo O beach, My Phuoc cajuput forest have rich biodiversity values ​​with valuable animal and plant species that must be preserved.
Typically, My Phuoc cajuput forest (My Tu) has 127 species of plants, 8 mammals, 70 species of birds, 15 species of amphibians and reptiles, 25 species of fish, 81 species of insects, including many rare species such as civet and otter. My Phuoc is also a habitat for cajuput and coconut trees. It is the only place in the Mekong Delta where there are interfering habitats between cajuput and coconut forests.
Pet, Flowers and Ornamental Plants:
Pham Van Tao of Binh Duc Village, Tay Vinh Commune, Tay Son District, Binh Dinh Province is one of the most successful florists who grows and sells peach blossom trees in large quantities every Lunar New Year.
In order to propagate many peach trees, instead of applying the traditional technique of the Northern region, which is to extract peach branches from covering the soil, Pham explored and extracted peach trees using his own method.
Currently, Pham's garden has nearly 100 pots of peach blossoms. From April to June of the lunar calendar is the time when many customers order peach blossoms to prepare for the Lunar New Year holiday. Each pot costs from VND500 to 600 thousand.
By Sonia LV - Copyright © VietLinh