Aquaculture:
This time of the year is the harvest time of commercial lobster in Phu Yen Province. Yet, many lobster farmers face losses because of a steep drop in price due to COVID-19. The export is being postponed, but the number of commercial lobster for harvest is abundant. Farmers will face losses if they sell their lobster. However, if they don't sell their product, it would be more burdens for them because the stormy season is approaching.
According to estimations of lobster farmers in Song Cau Town, to raise 1 kilogram of commercial tropical rock lobster (Panulirus ornatus) to the selling stage, it would cost about VND1.1 million. Thus, at the selling price of VND800,000/kilogram, farmers face a capital loss of VND300,000/kilogram.
According to authorities, currently in Song Cau Town, there are about 52,000 lobster cages. Of which, about half of them are at the harvest time.
Meanwhile, the stormy, rainy season is coming, but the number of farmed lobster that reaches commercial size is plentiful. The locality recommends farmers to sell lobster that reaches the commercial size in order to limit losses.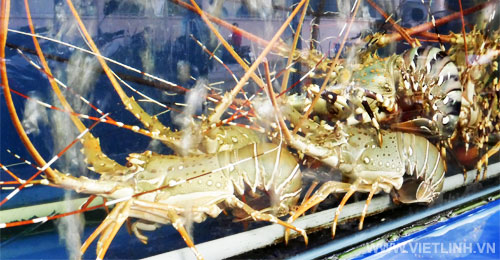 Processing, Import and Export:
On September 11, at Thong Thuan Co., Ltd. (Thanh Hai Industrial Park, Ninh Thuan Province), the Ministry of Agriculture and Rural Development cooperated with Ninh Thuan Provincial People's Committee to hold a ceremony and celebrate brackish water shrimp export to Europe after the European – Vietnam Free Trade Agreement (EVFTA) took effect.
This shipment is a batch of frozen shrimp of Thong Thuan Co., Ltd. in Ninh Thuan Province. It is exported to the markets of the UK, Germany, and the Netherlands.
Ninh Thuan Province has over 1,000 hectares of commercial shrimp farming with an output of about 10,000 tons. Shrimp seed production in the province has an output of over 34 billion with over 36 billion shrimp postlarvae. Frozen processed shrimp is the second main export good of the province, accounting for 43.5% of local total export structure.
Operating with a closed process from farming to production, Thong Thuan Co., Ltd. has successfully export shrimp to difficult markets such as the US and EU besides the traditional market of Japan, which has an export turnover of $35-37 million/year.
By Sonia LV - Copyright © VietLinh